Program PTAR ESPORT CHALLENGE WEEK julung kali dianjurkan oleh Perpustakaan Tun Abdul Razak yang dijadualkan berlangsung sepanjang 13 Jun - 19 Jun 2022. Tujuan program adalah untuk mempromosikan ruang santai dan eSports peranti serta konsol permainan elektronik (PS4) di samping menarik warga universiti berkunjung ke perpustakaan.
OBJEKTIF
i. Memberi pengalaman awal kepada PTAR untuk menyediakan platform eSport
ii. Meningkatkan ketampakan perkhidmatan dan kemudahan perpustakaan.
iii. Mengadakan kaloborasi antara PTAR, Komunity Kampus seperti Kelab Pelajar MYTA dan Fakulti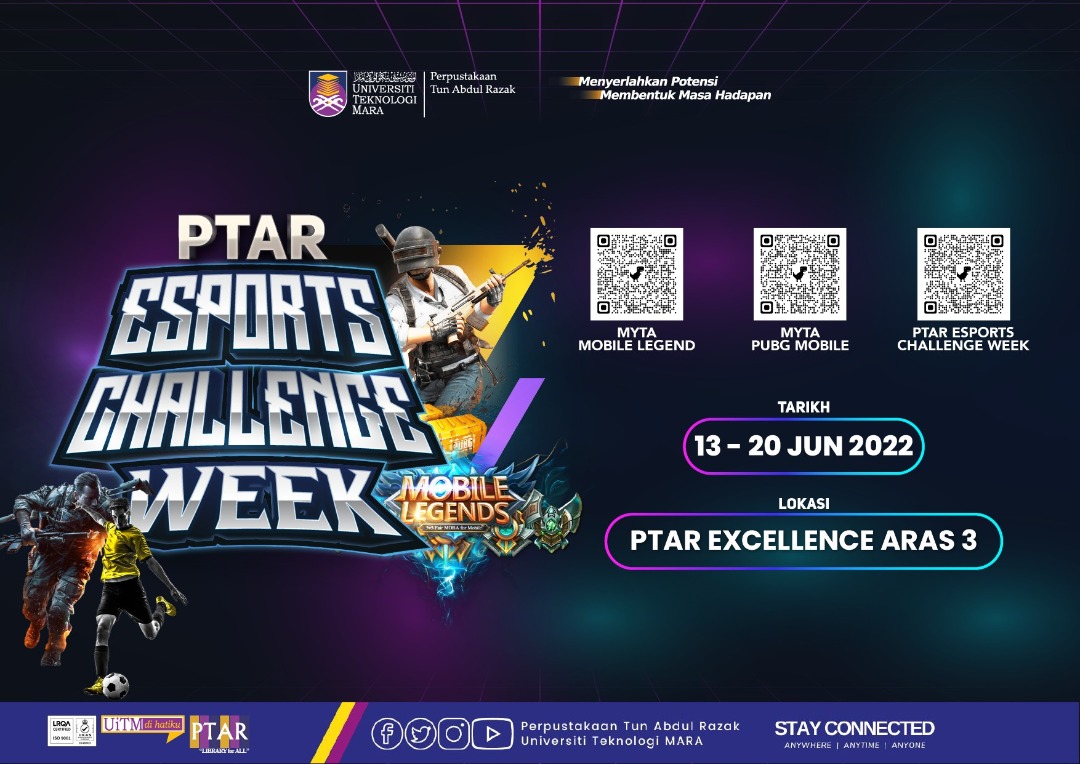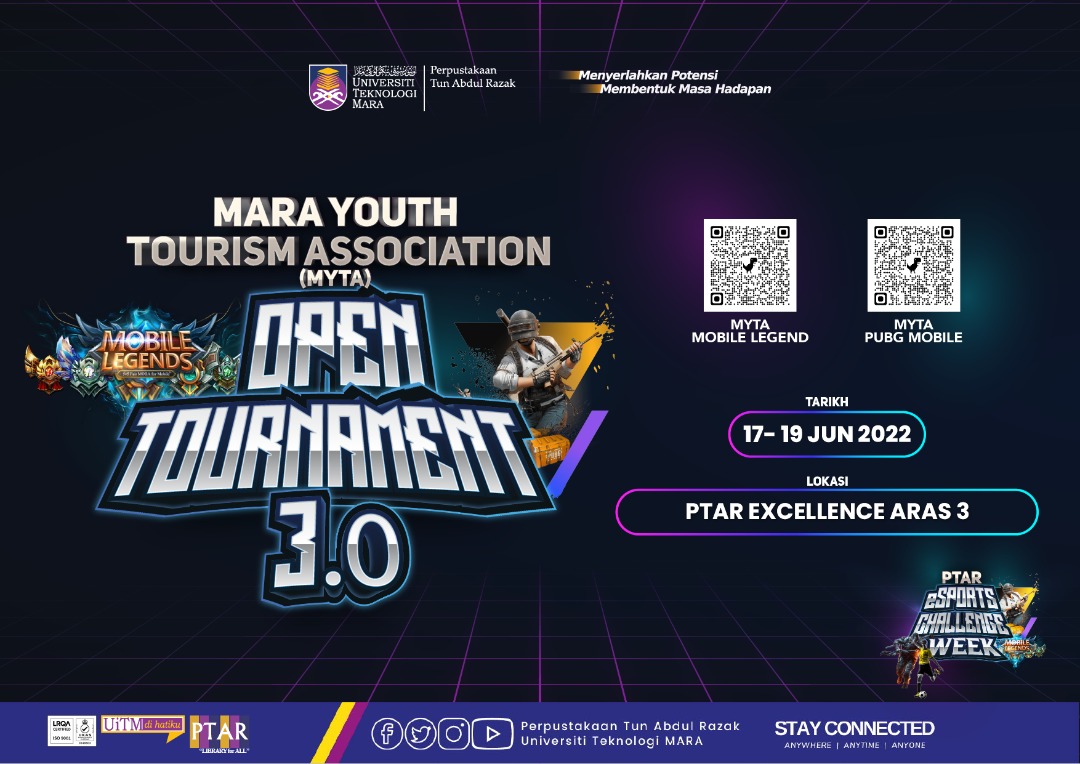 Mara Youth Tourism Association (MYTA) is organizing Myta E-Sports Tournament 3.0 (PUBG MOBILE and MOBILE LEGEND). This tournament is in line with the call of the Ministry of Youth and Sports to encourage the electronic sporting scene in Malaysia.
The details of the tournament :-
📆 Date: 17-19 JUNE 2022
📍This Myta e-sports tournament 3.0 is OPEN to all UITM students . Do follow our official Instagram @MYTAUITM for further informations or contact number below.
💵 Registration Fee:-
MOBILE LEGEND RM30
PUBG MOBILE RM25
For registration, students have to click the link below:
PUBG > https://forms.gle/Sa57SFcqvJ9MQHqC8
ML > https://forms.gle/1Xe7FPAvgDhBuP959
Do click link below after registration :
Payment:-
BANK ISLAM BERHAD
12038025939024
NURUL MALISSA SHAHIRA BINTI ABDULLAH
For any inquiries, you may contact:-
📲 Izzati: https://wa.me/60164018366
📲 Aishah: https://wa.me/60108077270
❗ JOIN NOW! DO NOT MISS YOUR OPPORTUNITY❗
Thank you
#mytauitm
#mytamovingforward